Solution
Honest devotes to providing customized solution.
Inductor Equipment Solution
---
HONEST has independent R&D in 2019: NR inductor automatic winding machine, NR power inductors dispensing machine, T core choke winding machine, T core choke embedding thermo press, T core choke laser stripping machine, Common mode choke winding machine, Common mode choke assembly machine, SMD testing and packaging machine and other equipment. The range of equipment usage covers high-frequency transformers, low-frequency transformers, DR cores, SMD inductors, relay coils, etc. It is mainly used in the communication industry, consumer electronics, industrial electronics and automotive electronics.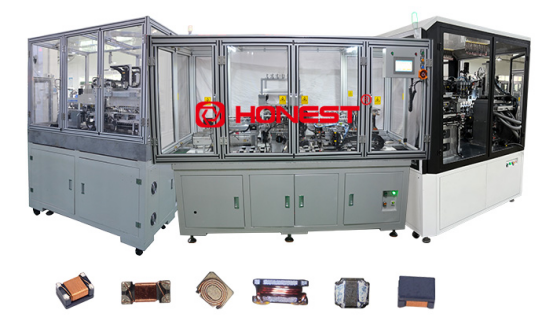 Advantages of HONEST Inductor Automation Equipment:
1. All equipment applies YASKAWA motion controller and servo motor.
2. The transmission device adopts Japan THK precision screw and guide rail.
3. Inductor automation production equipment technology is mature.
4. Applicable scope: T-core choke winding equipment, common mode inductor winding equipment, NR power inductors automatic winding machine.