Solution
Honest devotes to providing customized solution.
New Energy Drive Motor Equipment Solution
---
The new energy vehicle drive motor system, which is one of the core systems of the new energy vehicle, and its performance determines the main performance indicators of the vehicle driving such as climbing capacity, acceleration ability and maximum speed. The drive motor system is mainly composed of the motor and its controller, of which the motor is mainly assembled from stator, rotor, shell, connector, resolver and other parts. HONEST entered into the development and custom production of automated production line for new energy vehicle drive motors in 2019.
New Energy Drive Motor Hairpin Motor Stator Assembly Line
The production rate of new energy drive motor hairpin motor stator assembly line is 60S/PCS, the main process includes: loading, laser marking, paper inserting, nest inserting, stator flare, straightening, strip insulation layer, 2D+3D forming, coil inserting nest forming, stator twist, terminal cut flat, stator welding, insert BUSBAR, welding, performance testing, nest transfer mechanism and ground rail and so on.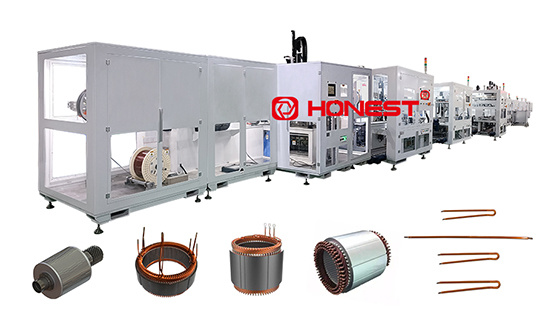 Equipment Advantages:
1. This production line can achieve fully automatic production of six-line twelve-layer.
2. All line standard components are adopted in module design. The corresponding number of equipment can be matched according to different production capacities, and the output can be increased by adding equipment. Make it possible to rapidly expand production with low investment.
3. It can adapt to various types of wire with flexible winding machines.
4. The key components in the production line are independently processed by precision equipment and lifetime management of key components.
5. Face recognition, real-time traceability of production data, upload and distribution, and interfacing with the MES system.
New Energy Drive Motor Rotor Assembly Line
The production rate of new energy drive motor hairpin motor rotor assembly line is 128S/PCS, the main process includes: loading, Insert magnets, injection, dynamic balance plate loading, heat, liquid nitrogen cooling and loading, core shaft insert, cooling, Lock riveting pressure, clearing, magnetizing, shaft head magnetizing, laser marking, visual inspection, oil-coated, unloading and so on.
Equipment Advantages:
1. MES manufacturing execution system is adapted to provide enterprises with management modules including manufacturing data management, production process control, bottom data integration and analysis, upper data integration and decomposition, etc. to create a solid, reliable, comprehensive and feasible manufacturing collaborative management platform for enterprises.
2. Quickly mold change machine product change production, can achieve one-key switching, fully automatic cycle operation, equipped with data input and output devices, the control system including safety logic control and fault diagnosis system, remote monitoring system.
3. The frame is welded with quadrate pipe and then machined as a whole, with high precision, good rigidity, vibration resistance and long lifespan.
4. Six-axis robots are used on the whole line and for loading, with high flexibility of the production line, which can cope with the rapid change of various products, and the robots are equipped with fixture storage and automatic type change.
5. Each process of the whole line is equipped with high precision visual inspection system to ensure the production quality of each process.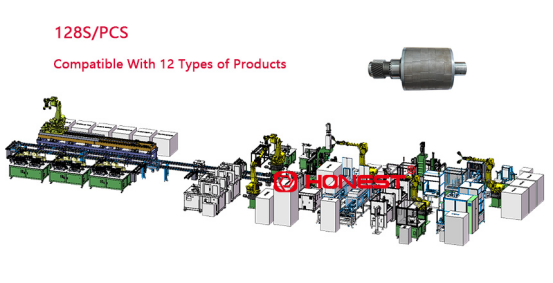 New Energy Drive Motor Assembly Line.
The production efficiency of new energy drive motor assembly line is 100s/pcs, the main processes of the equipment are: rotor press-force rear bearing, rotor and pressure plate press-force, end cover installation positioning pin & elastic wave pad, end cover bearing chamber heating, end cover and rotor assembly, main shell installation front slinger, machine shell heating, stator shrinkage, shell cooling, electrical performance test, main reduction gear final tightening and fixing, motor assembly cooling, O ring, shell gluing, installation of cooler, installation of pressure filter, oiling screw plug, air tightness test, product appearance inspection, packaging, storage, etc.
Equipment Advantages:
1. Relatively high degree of automation, all processes are error and leak-proof detection.
2. Configuration of the whole line data acquisition system to ensure traceability of each process.
3. A stable and reliable flexible assembly mechanism is developed for this newly designed drive assembly structure to ensure reliable assembly quality.