Cases
Customer Trust Is Our Driving Force
The Polishing Equipment is Delivered to the Customer's French Factory
---
The company has fine tradition and long history, more than 175 years old. They are an internationally renowned manufacturer of optical systems, industrial measuring instruments and medical equipment with 10 offices worldwide.
Cooperation Time: 5 Years
Industry: Medical Equipment Industry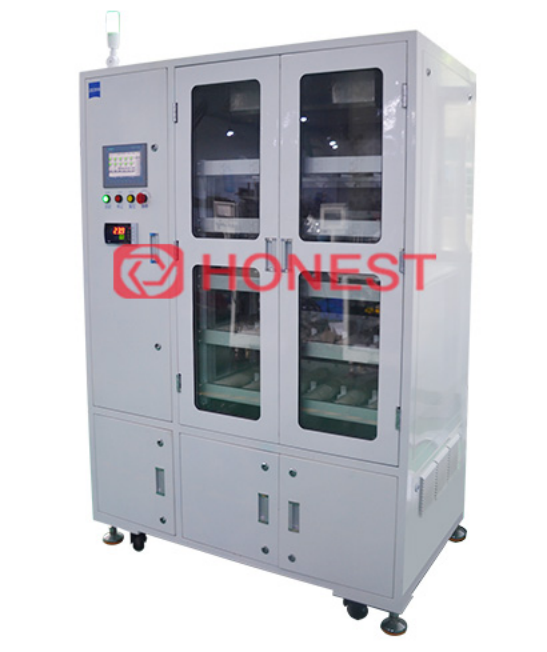 Equipment introduction:
The glass bottle of the polished bottle-turning machine is manually placed on the bottle-turning roller inside the equipment. In a low-temperature environment of 0-6°C, the bottle turning roller rotates the glass bottle through friction. After the glass bottle has rotated for a set time, HMI and three-color lights remind operators to take away the polished glass bottles corresponding to the coordinates. This equipment is mainly composed of the following four parts:
1. Bottle-turning assembly: The stepper motor drives the bottle-turning roller through the synchronous belt connection, and the polishing roller rotates at a constant speed to drive the glass bottle.
2. Refrigeration assembly: It is composed of refrigeration compressor, evaporator, condenser, temperature controller, and temperature sensor, which can realize 0-6°C adjustment, and the refrigerant is environmentally friendly.
3. Safety control system: When the door of the spinner chamber is opened, the inner spinner roller stops rotating.
4. PLC control: composed of HMI and PLC controller. It has the functions of parameter setting, motor speed regulation, manual debugging program, automatic running program, data display and storage.
Equipment parameters:
Cooling power: 2P / 1500W
Equipment power: 4KW
Power supply: three-phase AC380V-50Hz
Production capacity: 50 bottles/set/6 days
Glass bottle speed: 80±3 rpm
Polishing ambient temperature: 0-6°C
Ambient temperature requirement: 10-30°C
Equipment dimensions: L1350xW790xH1950mm
Application field: medical industry