Cases
Customer Trust Is Our Driving Force
New Energy Hairpin Stator Assembly Line Case
---
The company is one of the top 100 IT companies in the world by Business Week, and its group companies are located in China, the United States, Japan, Europe, Scotland, and Southeast Asia. HONEST has cooperated with this corporation for many years and provided motor assembly equipment such as motor production lines and new energy hairpin stator assembly production lines.
Cooperation Time: 2 Years
Industry: New Energy Vehicle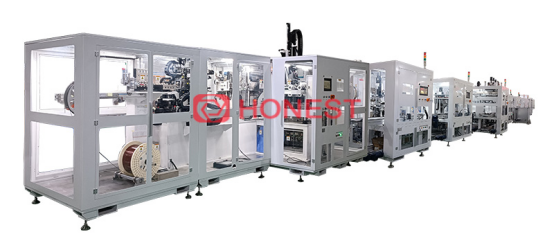 Equipment introduction:
This project is applied in the field of the hairpin motors.
This hairpin motor assembly line consists of 11 sets of equipment, the production line is highly automated and intelligent. Supporting MES system to realize production status dynamic information board, production scheduling, material distribution, process parameters (including pressure, displacement, performance parameters and appearance). The modular and flexible design of the factory information management of the production quality data statistical analysis, equipment operation status and maintenance management, and quality traceability system makes the application of the program more flexible. It has a wide range of product compatibility, which greatly reduces production costs and improves the competitive advantage of the enterprise.
Equipment advantages:
1. The equipment control system is mainly composed of man-machine interface (touch screen), programmable logic controller PLC (or motion controller), communication module, industrial computer, lower computer software, upper computer software, etc. Through reasonable logic program design, various complex functions such as assembly and testing can be completed, and the continuity and stability of the equipment in the production process can be ensured.
2. Fool-proof and mistake-proof. Program interlock, profiling tool, guide mechanism, protection mechanism, sensor monitoring and alarm system throughout the entire production process can effectively avoid the occurrence of wrong actions and ensure smooth production and personal safety.
3. Equipped with high-precision sensors, visual inspection system, leak-proof installation, less installation, wrong installation and quality inspection after installation.
4. Formed by mature numerical control technology, good compatibility, avoiding possible damage to the paint line during the mold forming process.
5. Precise feeding.
6. 100% detection slot paper insulation.
7. Equipped with a disc-type flattening mechanism, it can quickly and neatly cut the stator wire.
8. The equipment automatically fixes the wire end, which can realize automatic clamping and welding protection tooling, and is equipped with a cleaning mechanism at the same time.
9. Using vacuum glue filling technology, accurate positioning, high precision, small operating error and strong stability.
Equipment parameters:
Efficiency: 108 S/PCS
Conversion time: 30Min
Qualification rate: ≥95%
Utilization rate: the whole line ≥ 90%
Voltage: total incoming line three-phase AC 380V 50HZ stand-alone AC 220V/380V 50HZ
Air pressure: 0.45MPa~0.65MPa
Power: The whole line is about 150KW
Total number of stand-alone machines: 11
Number of people required: Unmanned
Control mode: PLC + HMI
Size: 50m*12m*2.7m
Application field: hairpin motor