Cases
Customer Trust Is Our Driving Force
New Energy Vehicle Hairpin Motor Stator Wire Making Equipment Case
---
The company is a major corporation and Fortune 500 company. HONEST provided the company with hairpin stator wire-making equipment. The customer has completed equipment debugging and quality inspection. Currently, it is in stable production.
Cooperation time: 2 Years
Industry: Motor Vehicle Manufacturing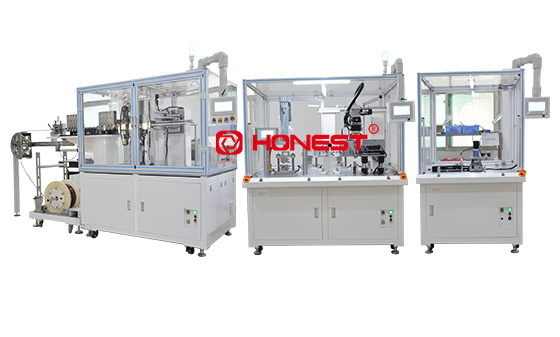 Equipment introduction:
This production line is a non-standard automation solution for hairpin stator forming. It is composed of an uncoiling straightening machine, 2D forming machine and 3D forming machine. It mainly completes the feeding straightening, cutting and bending forming processes of the hairpin motor. The equipment adopts high-precision molds, which can effectively improve the stability and efficiency of line forming. The design considers the compatibility of different line types to ensure high stability of production operations and fast speed of change of models. It is designed and developed in combination with the characteristics of assembly production technology to achieve To meet customers' needs for product design and processing, it has the characteristics of matching, scalability, reliability and safety.
Equipment Configuration Advantages:
1. Configure high-precision sensors to detect material in place and forming, etc.
2. The equipment is ergonomically designed and easy to operate.
3. Safety protection and error prevention function.
3.1 Configure safety door locks for personal safety protection.
3.2 The device has door opening safety protection function.
3.3 The equipment has air pressure safety protection function.
3.4 The device prompts various misoperations and bad states in real-time.
3.5 When the equipment is abnormal, an abnormal alarm will be displayed on the screen, indicating the abnormal location, which is convenient for manual operation.
Equipment Parameters:
Efficiency: subject to actual production
Conversion time: less than 10min
Qualification rate: ≥98%
Utilization rate: ≥95%
Voltage: AC380V/AC220V 50HZ
Air pressure: 0.4~0.7Mpa
Power: ≈7.8kW
How many stand-alone machines in total: 3
Only need a few people: 2 people
Control method: The equipment control method is mainly composed of man-machine interface (touch screen), programmable logic controller PLC (or motion controller), communication module, through reasonable logic program design. Complete various complex assembly, testing and other functions, and ensure the continuity and stability of the equipment in the production process.
Physical dimension:
2D molding machine L1100 * W1067 * H2200
3D molding machine L1700*W1267*H2200
Uncoiling straightening machine L3475 * W1194 * H2200
Application field: new energy drive motor