The Insulation Sheet Assembly Machine was Delivered to the Customer's Vietnam Factory
---
The company is a multinational company specializing in the R&D, production and sales of micro motors. Its products are widely used in consumer goods such as automobiles, home appliances, communication equipment, and electric toys. The company purchased our fully automatic insulation sheet machine, which saved more than 800 laborers for the factory. The enterprise has launched a long-term cooperation with HONEST.
Cooperation Time: 10 Years
Industry: Motor Industry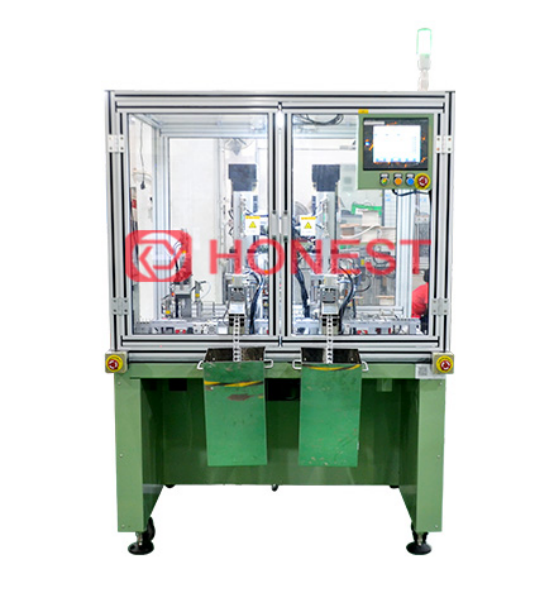 Equipment Introduction:
This equipment is a non-standard automation solution for insulating sheet assembly. It mainly completes the rotor insulating sheet assembly process (one piece at the head and one at the tail) and can customize functions according to customer needs. The insulation sheet adopts the double-coil feeding method, which is convenient for manual feeding and also provides stable feeding frequency and can flexibly change the speed according to the production cycle to meet the customer's demand for production capacity. The rotor is fed through the material channel, and the assembly of the insulating sheet is completed through automatic positioning, rotor turning and pressing station. The press-fit part is completed by a servo press, and the press-fit pressure, stop position and press-fit speed is precisely controlled throughout the process. The waste tape is automatically returned to the waste tape collection box.
Equipment Advantages:
1. Equipped with high-precision sensors to detect over-installation and missing installation of insulating sheets.
2. The equipment is ergonomically designed and easy to operate.
3. Safety protection and error prevention function.
3.1 Configure safety door locks for personal safety protection.
3.2 The equipment has door opening safety protection function.
3.3 The equipment has air pressure safety protection function.
3.4 The equipment prompts various misoperations and bad states in real-time.
3.5 When the equipment is abnormal, an abnormal alarm will be displayed on the screen to prompt the abnormal location, which is convenient for manual operation.
Equipment Parameters:
1. Efficiency: ≤ 1.6s/Pcs
2. Compatible products: various series of products with different shaft lengths and core thicknesses.
3. Qualification rate: ≥99%
4. Utilization rate: ≥90%
5. Voltage: AC380V 50HZ
6. Air pressure: 0.4~0.7Mpa
7. Power: 1.2KW
8. Number of people needed: 1 person
9. Control mode: The equipment control mode mainly consists of man-machine interface (touch screen), programmable logic controller PLC (or motion controller), and communication module.
10. Through reasonable logic program design, various complex functions such as assembly and testing can be completed, and the continuity and stability of the equipment in the production process can be ensured.
11. Dimensions: L 1302 - W 1297 - H2070 (mm)
12. Application fields: According to the different rotor models produced by customers, the application fields are relatively wide.