Shenzhen HONEST participated in the forum of "Artificial Intelligence and Intelligent Manufacturing under the Background of ChatGPT"
---
On July 29, 2023, the "Artificial Intelligence and Intelligent Manufacturing under the Background of ChatGPT" forum hosted by the Intelligent Chemistry Society was held in Shenzhen. Shenzhen Honest Mechatronic Equipment Co., Ltd participated in this forum as one of the co-organizers. The purpose of this forum is to discuss the development trend and prospect of artificial intelligence and intelligent manufacturing in the new era, and about 350 to 400 participants attended the forum.
Keynote Speech
Manager Xia from Honest shared with us the theme of "Future Trends of New Energy Vehicle Equipment under the Background of Chat GPT". He mentioned in his sharing: The ideal manufacturing scenario under intelligent manufacturing is people + AI + equipment + raw materials + preset methods + AI improvement methods after deep learning. Non-standard automation equipment is divided into 6+1 modules, namely: parts loading + transportation + grabbing + assembly + testing + finished product unloading + functional standard machine. Through the Honest +Chat GPT program, the standardized library and large database of Honest are integrated. With 17 years of industry accumulation and expert experience, a Chat GPT dedicated to Honest is trained in accordance with the values and culture of the enterprise.
Theme Interaction
Mr. Zhou, the general manager of HONEST, discussed with other entrepreneurs the identification of talents by smart manufacturing companies in the themed interaction session. When faced with the two options of rich experience and innovative ability, Mr. Zhou emphasized the importance of innovative ability Importance, think that for smart manufacturing companies, innovation ability is a crucial factor, innovation ability is the lifeline of smart manufacturing companies, it is the key to promoting technological progress, adapting to market demand, and solving problems and challenges. Talents with innovative abilities can make the enterprise invincible and realize the goal of sustainable development.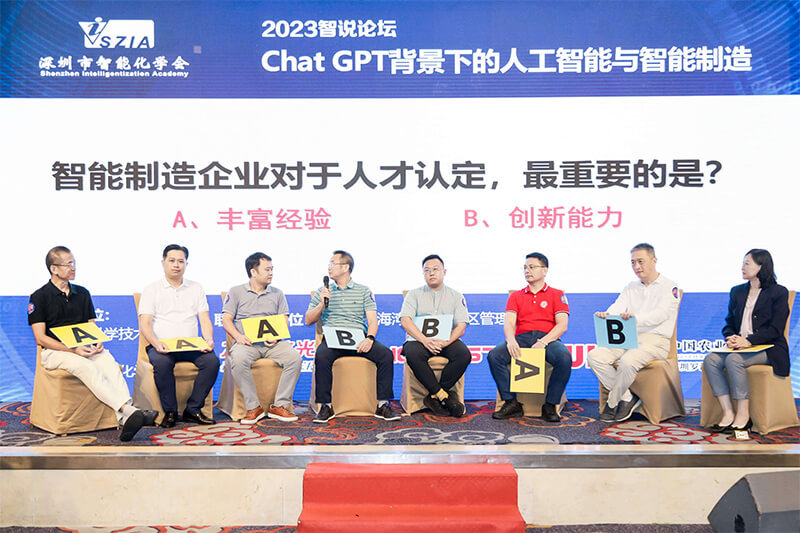 Awards Ceremony
Before the end of the forum, the "Hump Award" was awarded to recognize enterprises and individuals who have made outstanding achievements in the field of intelligent manufacturing. As a leading intelligent equipment manufacturing company, HONEST is honored to receive this honor, demonstrating its outstanding performance in the field of intelligent manufacturing.
This forum provides an important stage for HONEST, demonstrating the innovative strength and future planning of HONEST in the field of intelligent manufacturing. HONEST will also continue to take innovation as the driving force, continuously expand the boundaries of the field of intelligent manufacturing, and make more contributions to the prosperity and development of the industry.