Brushless motor equipment
---
The automation equipment of DC brushless motor has the following processes:
1. Rotor section: riveting shaft of rotor iron core, turning outer circle of rotor iron core, measuring outer diameter of core, pressing copper sleeve, installing O ring and installing gasket;
2. Stator section: cutting short circuit ring, assembling short circuit ring, welding short circuit ring, slotting paper, installing insulation frame, winding stator and striking terminals with leads;
3. End cap section: End cap punching, tapping, end cap filling, (bearing, sealing ring, bearing sleeve) assembly, bearing pressing;
4. Motor assembly section mainly includes: rotor assembly, stator assembly, rear end cover assembly, screwing, bearing alignment, coupling installation, motor testing and labeling;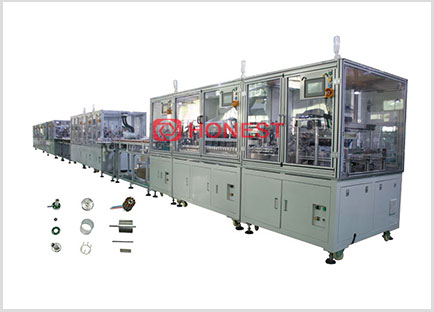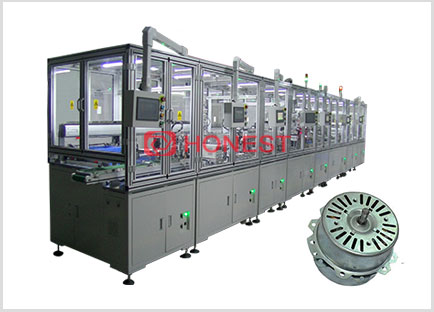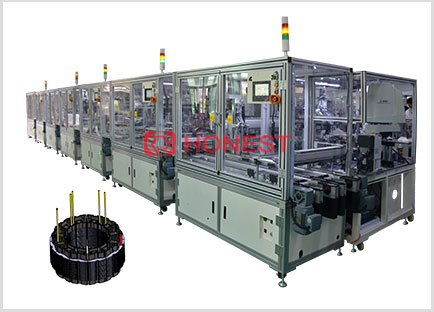 Motor autoline for home appliances
Production line of shaded pole motor
Honest has been working in the micro motor industry for 13 years. All the above processes have mature solutions.Testing equipment can be provided according to customer process flow.The products are widely used in the fields of auto parts, household appliances, office automation, power tools, medical treatment and electric toys.We have been serving Wanbaozhi, Nedco, Dechang, Lijia, Hengshui, Midea, Ai Longwei, Weijin, Toshiba, Fei Long and other famous enterprises for a long time.