The Fourth Delivery of Automobile Water Pump Motor Automation Equipment to the Customer's Factory
---
The water pump motor produced by the automobile water pump motor assembly machine is used in special vehicles such as new energy vehicles and RVs. It is often used in micro water pumps as water circulation, cooling or on-vehicle water supply systems. This fully automated motor assembly line has increased from 4 seconds efficiency at the beginning of design to 2.5 seconds efficiency. At the same time, it can convert 0~5 series products. The conversion product only needs to replace the corresponding fixtures, adjust the program parameters, and don't need to replace a number of parts and debug. The main processes of the equipment include armature section: commutator assembly, winding, spot welding, precision turning, testing, etc. Rubber cover section: terminal assembly, carbon assembly, brush assembly, etc. Stator section: assembly of iron cups, assembly of magnets and slingshots, dust collection and magnetization, etc. Assembly section: motor assembly, motor shaft out-of-position inspection, motor no-load performance test, etc.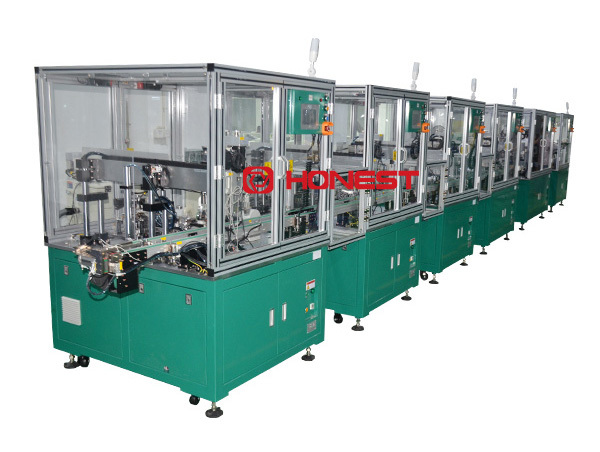 The advantages of automotive water pump motor automation equipment include high degree of automation, automatic loading and unloading of all equipment, no need for workers to operate, the finished product is automatically output. All equipment uses modular design, higher production efficiency. Motor assembly equipment can support the coordination of the corresponding process efficiency by increasing the number of corresponding types of equipment, thereby improving the efficiency of the entire line. The qualified product rate is over 99%, and the working time utilization rate can reach over 90% throughout the day.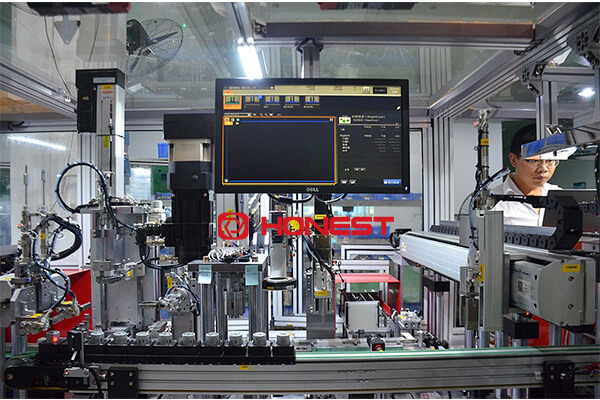 HONEST Automatic has been committed to the research and development of customized motor automation production line, including automotive water pump motor automation equipment. It has also successfully developed automotive fuel pump motor, brake motor, tail box motor, gearbox, glass lifter and other motor production line. We have more than 400 successful cases of the motor production line, and 14 years of research and development experience can help companies realize unmanned production workshops and customize motor automation assembly solutions for customers.