Honest had won the prize of the Guangdong province specialized and special new enterprise in 2021
---
On the 2nd, December, 2021, Guangdong industrial and Informatization office issued the Guangdong province specialized and special new enterprise in 2021 list. According to the list, Shenzhen HONEST Intelligent Equipments CO., LTD successfully won the prize. The industry it belongs to is a high-end equipment manufacturing industry cluster.
The specialized and special new enterprise contains the feature of the specialization, refinement, specialization, novelty. They are centralized in market segmentation, strong innovation ability, high market share, mastering key core technologies, excellent quality and efficiency. The main enterprise is technical research company. Such enterprises have high technology content, large R&D investment, and strong strength in industry segments.
At present, the specialized and special new enterprises are mainly concentrated in the manufacturing industry, including machinery and equipment, electrical and electronic, computer, chemical, pharmaceutical, and biological industries, and they are accounted for half of them. Meanwhile, the industry distribution meets the industry development trend. Honest belongs to the high technology manufacturing cluster.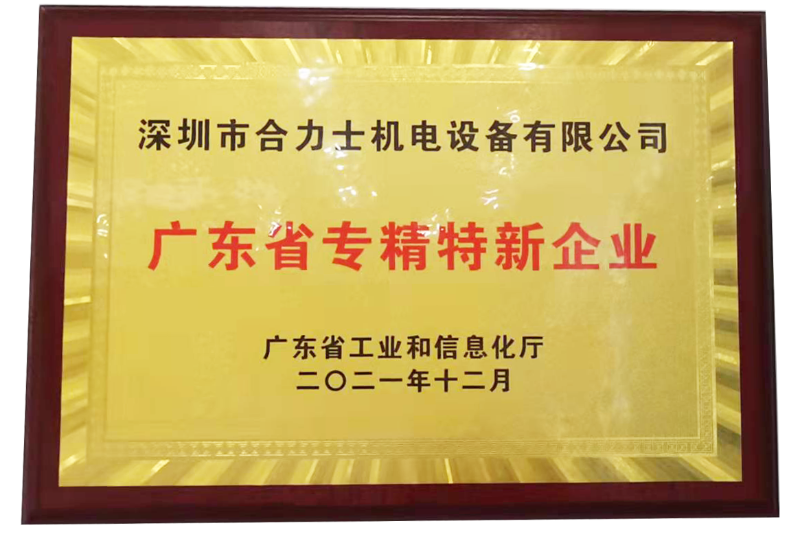 Honest is a non-standard custom automated assembly line manufacturer. From now on more than 300 national patent certificates and more than 600 mature case lines have been obtained. The main product contains a fully automatic motor production line, new energy drive motor production equipment, hairpin motor stator production equipment, vehicle parts assembly equipment, electronic components inductance winding equipment, and other area assembly equipment. The DC brush motor and brushless motor production line take the lead market rate in the area. All line efficiency can reach 2s/pcs at the fastest speed. It can compatible with 15-40 types of motor production equipment. Only for 30 minutes for changing types. The whole line of the equipment adopts the method of belt and fixture to transfer materials, with fast running speed, complete functions, and simple equipment structure, which can realize a variety of complex automatic assembly processes.
It is honor for Honest to win this prize.We would like to thank the government leaders for their comprehensive support to our company, so that Honest has won this vanity and stood at the forefront of the equipment manufacturing industry. Honest also received strong support from the government, schools, enterprises, social people and other institutions in terms of research and development funding, scientific research environment, and talent introduction by the title of the Guangdong province specialized and special new enterprise. Honest will keep the idea that follows the party steps in mind. Firmly follow the path of socialism with Chinese characteristics. It will also continue to build a digital and flexible "black light factory" for customers with the mission of moving forward.