The Development of Motor Winding Machine
---
Winding is the industry that requires the most labor demand among high-tech products, and the emergence of winding machines can effectively reduce labor costs, improve work efficiency and product quality.
It is common processing equipment in the production industry. The development process can be divided into manual, semi-automatic, and fully automatic. After half a century of development, the winding machine first appeared in the European and North American countries in the 1960s, our country introduced this advanced automation equipment at the beginning of reform and opening-up. Since the 1990s, with the development of the market economy, many fields led by manufacturing have entered the stage of rapid development, which has led to the development of winding machines.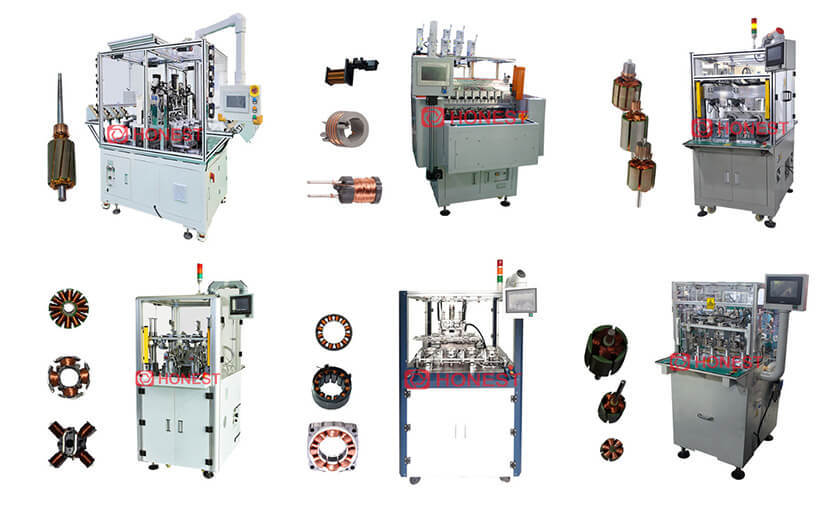 SHENZHEN HONEST MECHATRONIC EQUIPMENT CO., LTD entered the Chinese manufacturing industry in 2007. Focus on the development and production of single-machine automation equipment such as motor winding machines, spot welding machines, and precision turning machines. In 2008, the self-developed four-axis automatic winding machine was successfully tested and won the domestic winding equipment patent certificate. In the same year, mass production was realized, breaking the monopoly of foreign equipment. We have mature winding equipment such as rotor winding machine, stator inner winding machine, stator outer winding machine, skeleton winding machine, coil winding machine, and magnetic winding machine.
In 2012, HONEST automatically developed a domestic brushed motor assembly line, which was put into production in the customer's factory in the same year, bringing customers a 10-year order from BMW Motor Company. HONEST has successfully achieved transformation and possesses profound capabilities in R&D and production of the motor production line.