Automobile Sunroof Motor Production Line Installation Completed
---
HONEST fully automatic automobile sunroof motor production line installation and commissioning completed. The equipment uses belts and fixtures to transfer materials, fast running speed, complete functions, compatible with up to 36 different motors, simple structure, easy to change product models. It can be switch models within 20 minutes. The equipment efficiency up to 5s/pcs, and it can also realize the production of motors with complex processes such as automatic glue, dribble oil, baked dry, and cooling. Various visual, pressure, tension, displacement and other monitoring methods are used to ensure stable quality. The assembly process includes the rotor section, the magnetic bottom section, the rubber cover section, the motor assembly, and the accessory section. HONEST provides customers with first-rate fully automated equipment.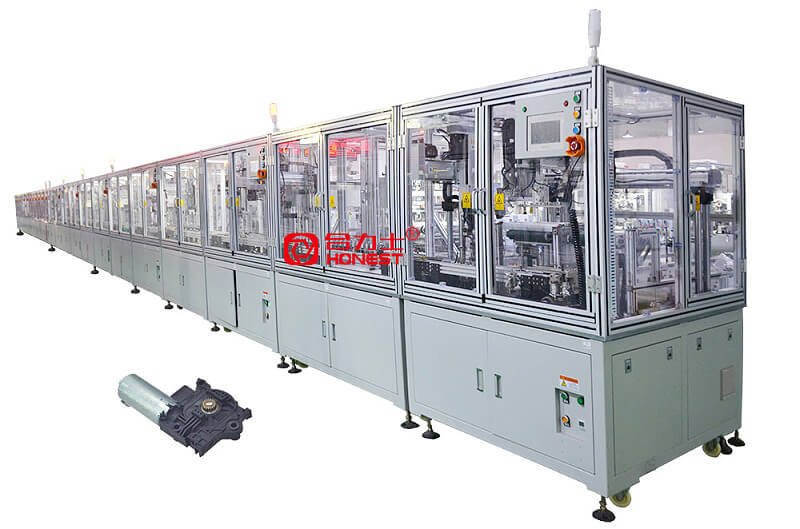 When the motor manufacturing equipment arrives at the customer's factory, our team of engineers will also arrive at the customer's factory together to provide operational guidance and training. We let the equipment be put into mass production in the shortest period of time. In order to better serve customers, the industrial park has expanded its area to 16,000 square meters, employs more than 400 people, has a modern assembly workshop of 10,000 square meters, and can assemble 40 fully automatic lines at the same time. At present, HONEST has established branches in Chengdu, Dalian and Ningbo.
HONEST will continue to focus on customer needs and provide systematic and professional fully automated equipment for new and old customers at home and abroad, helping companies optimize production capacity, which is our corporate mission.