Honest and Longhua's well-known enterprises joining Guosen securities launch a comprehensive strategic cooperation
---
1. Conference Theme
In order for the company's long-term strategic development, Honest participated in the Longhua District People's Government to sign a comprehensive strategic cooperation agreement with Guosen Securities Co., Ltd., the cooperation between the two parties will rely on the advantages of Longhua District's industrial system, also innovation advantage and Guosen Securities' financial services, it will actively serve the "Digital Longhua, Urban Core" construction and industrial leapfrog development in Longhua District.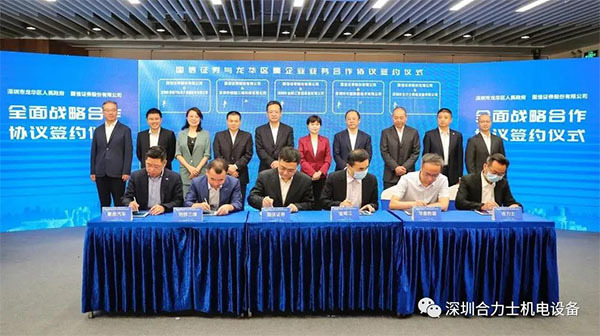 2. Conference Content
The two parties will cooperate to optimize the layout of Longhua Financial Institutions, providing interest and debt finance, M & A restructuring and other capital market services for enterprises in Longhua District, providing high-quality wealth management services for the investors of Longhua District, and conduct comprehensive cooperation in the fields of research training, talent exchange and investor education, helping Longhua District to build a industry-financing demonstration zone.
3. Honest strategic development
Under the witness of the leaders from Longhua District and Guosen Securities Co.ltd., Honest and major enterprises have completed the signing ceremony of the business cooperation agreement with Guosen Securities Co.ltd. The signing of the strategic cooperation agreement between the two parties also advances the listing goal of Honest's three-year strategic planning, and looks forward to the subsequent layout of digital transformation to do some exploration on depth and breadth in order to ensure that there is more certainty and calmness in dealing with uncertain markets in the future. Honest will continuously develop and maintain a good service to our customers while expanding the company scale, helping cooperative enterprises to optimize production capacity as well as achieving China manufacturing 2025.