Non-Standard Customized Electric Motor Assembly Line
---
Honest Automation non-standard customized electric motor assembly line can customize the entire assembly line and partial assembly lines according to customer needs.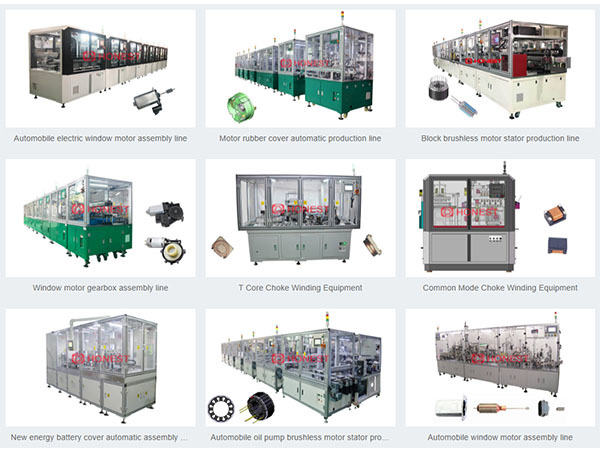 The equipment efficiency of the whole line can be in 2s to 4s, and it supports compatibility with 15 to 30 products. It only takes 30 minutes to replace the product. The electric motor assembly line uses belts and fixtures to transfer materials, with fast running speed, complete functions, and simple equipment structure. It can realize the production of motors with complex processes such as fully automatic various dispensing, oil dispensing, drying, cooling, etc. The assembly process includes rotor section, winding, spot welding, winding inspection, varistor welding, positioning ring assembly, rotor copper sand inspection, rotor meson position inspection. The magnetic bottom section, dispensing, dispensing status inspection, magnet assembly, cups in large shells, and magnetization of big shells. Complete motor product assembly, etc. The application of the whole line automation, intelligence and data. The equipment can realize the whole process control of product quality. Reduce product defect rate and improve motor quality stability.
Honest Automation non-standard customized electric motor assembly line can help companies improve production efficiency, make product performance more stable, and solve the problems of difficult recruitment and high labor costs for companies. At the same time, the modular and flexible design also makes the application of the program more flexible, with compatibility of multiple motor types, and reducing the production cost of the enterprise.