Brushless Motor Assembly Line
---
Honest brushless motor assembly line is composed of the stator assembly, motor assembly, and hydraulic pumps. The three sub-lines can be arranged in three ways 1. three sub-lines work independently 2. S-shaped arrangement of three sub-lines 3. Three lines are arranged in a line. A flexible layout can fit the requirement of the customer.All line supplies module processing layout with high flexbility; Every single machine can move separately. Pull apart two adjacent single machines, you can insert a new machine. Pull apart two adjacent single machines, you can insert a new machine. Isolating one of the line machines, the front, and rear machine also can be able to operate. Monitoring the whole process of equipment production, focusing on special performance control. In the process of the product the code information of the components, etc by barcode scanner and reader, etc. Bind the production process date to the barcode information to facilitate traceability and quality analysis, etc.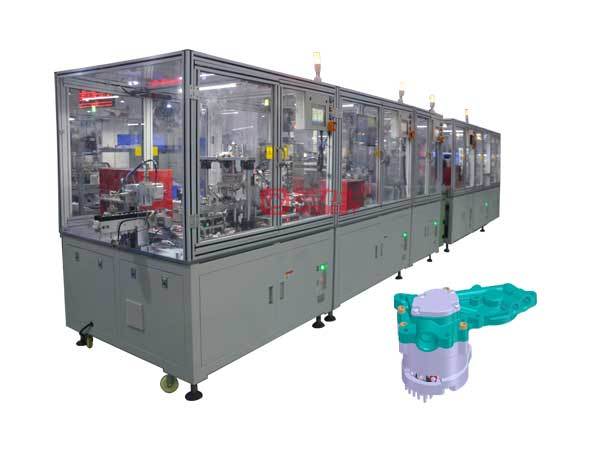 Brushless motor assembly line for automotive electronic hydraulic power steering system with CT 30spcs.Compatible with two products, it only takes half an hour to change the money. The equipment is equipped with data analysis and control, including 1. Information collection, tooling boards are equipped with RFID cards, and each process of the production line is equipped with barcode scanners or barcode readers according to actual needs. 1. It can record components' s barcode information and bind the process of data to the barcode. 2. Data storage, the data in the processing process is saved to the database in real time, which is convenient for retrospective query. 3. Feeding material judgment, each station is interlocked OK and automatically released.Automatic rejection of NG products (add 8 to 10 NG rejection trays) to prevent mixing.4. Data query, you can query and analyze the production process data of each process through the bar code, and retrieve the pressure displacement curve data to adjust the production process or analyze the problem. 5. Data format, Excel or scv format. 6. Data printing, you can print the required information and data according to your needs.

Honest focuses on customized production of motor production line manufaucturer.At present, it has obtained more than 300 national patent certificates and more than 600 mature case lines. The main products include a complete set of fully automated motor assembly equipment, new energy vehicle flat wire drive motor fully automated assembly equipment, auto parts assembly equipment and 3C, home appliances, etc. Field automated assembly equipment.